Political Rhetoric To Ban Pakistani Artists In India On A Rise Again
Do you love Pakistani singers Atif Aslam and Rahat Fateh Ali Khan? Do you wish to see them sing more Bollywood songs like Dil Diyan Gallan and Tinka Tinka Dil Mera? Of course, you do! Who doesn't love their soulful voice; whether they belong to India or Pakistan, they have garnered incredibly huge followers in India who get thoroughly excited whenever their songs are aired. Apparently, Indian singer-turned-politician Babul Supriyo does not feel the same towards these amazing Pakistani singers. Shocking?? Well, read on to know why…
Babul Supriyo, who was once the reigning Bollywood singer is now an Indian MP of the ruling BJP, recently expressed his disinterest in seeing Atif Aslam and Rahat Fateh Ali Khan sing for Bollywood films, and in fact, asked to ban them from singing playback songs for Indian movies.
Basically, Supriyo does not feel the need for cross-border entertainment, especially when India-Pakistan relationship is currently astray, and tensions are looming large. So this is the issue that's troubling Supriyo and his view is not being accepted by people.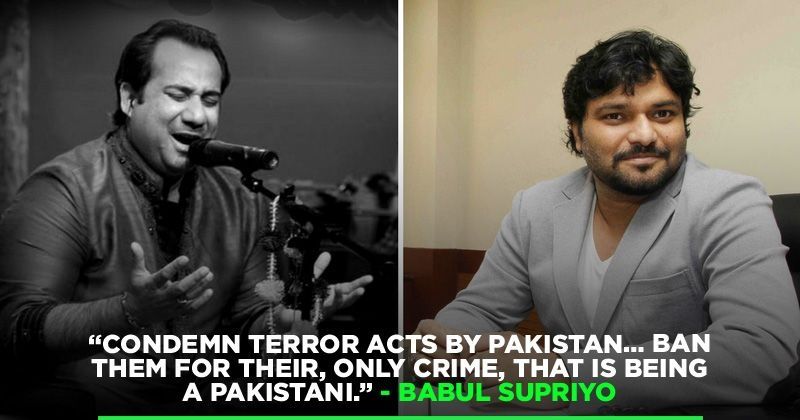 Supriyo told a famous news daily, "Atif as an artist sounds great in Dil Diya Gallan and Rahat is a great singer too. But it's important to clarify that our problem is not with the artists Atif or Rahat, but with their Pakistani nationality. It's not a political stand but probably the families who have lost their sons, brothers, fathers would feel a lot better should the entire country show solidarity in any manner possible."
In fact, his distaste for these two singers has risen to such a level that he wants Rahat Fateh Ali Khan's voice for the song featuring in an upcoming Bollywood film Welcome To New York be removed and dubbed by someone else. We seriously wonder why of all industries, the entertainment industry is being targeted and all the fury being transferred to such brilliant artists?
Rahat Fateh Ali Khan and Atif Aslam have given us some deep and passionate songs and they are loved by one and all in India and the world alike. We hope that this foolish idea of banning such musicians is discarded and they are provided with more chances of connecting with the audience. As an artist himself, Babul Supriyo should have thought before voicing his political rhetoric to celebrate at least the one thing that truly connects India and Pakistan.