Shiva Ayyadurai Makes Inane Claim Calling Elizabeth Warren a "Fake Indian"
Shiva Ayyadurai, an independent candidate in Massachusetts, eyeing the Senate seat that currently belongs to Sen. Elizabeth Warren, made an inane claim calling her a "fake Indian" and himself the "real Indian," since her Native American ancestry cannot be proven and she claims to be part Cherokee. In fact, his campaign bus was parked some distance from Warren's house, shamefully displaying the words "Only a real Indian can defeat a fake Indian," apart from huge pictures of both the candidates stuck on it for public display.
ONLY a REAL INDIAN can defeat THE FAKE INDIAN. Kindly donate $5, $25 or $100 at https://t.co/1Nyxp7y3NH to support #SHIVA4SENATE. pic.twitter.com/AWO88ITXWw

— Dr.SHIVA Ayyadurai, MIT PhD. Inventor of Email (@va_shiva) November 23, 2017
Ayyadurai, in his website, rightfully calls himself the "American Dream," since he has risen from the status of "untouchable" in India to becoming a Ph.D. awarded candidate from the prestigious MIT, shaping his life as an Indian-American, who now dreams to rule the Senate seat in the 2020 elections.
Even after building a life defined by struggles and sweat, Shiva Ayyadurai feels racially abused in America and thus takes a dig at Ms. Warren's, questioning her heritage and ancestry. He had even declared on Twitter about sending her a DNA kit to verify her lineage, which she ignored and returned and the exchange spread like a forest fire on the social media. He has even called his followers for action, asking the voters to "Defeat #FakeIndian Elizabeth Warren."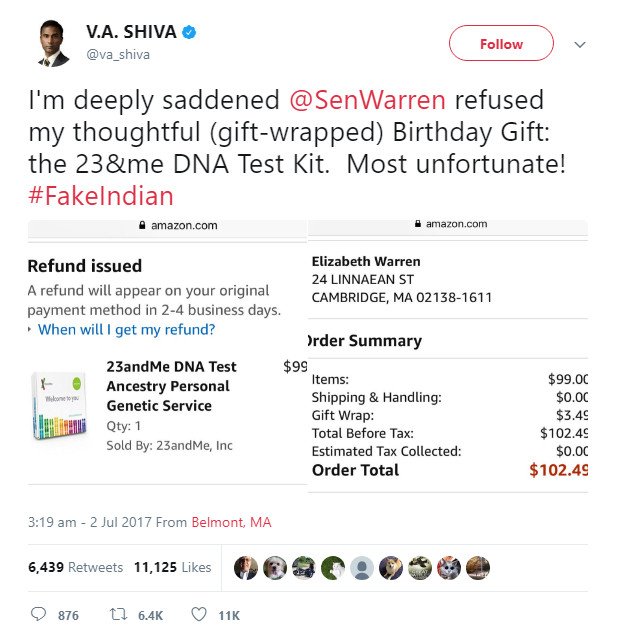 After President Trump mocked Ms. Warren by calling her "Pocahontas"; Ayyadurai posted another unscrupulous tweet, calling the Senate "Mosanthohontas."
TOO LITTLE TOO LATE! #FakeIndian & FAKE FIGHTER, "MonsantoHontas" @SenWarren after I EXPOSED that YOU voted YEA for THE Monsanto Protection Act, NOW you are posturing as being a fighter against Monsanto?!?! This IS Evil. @jadescipioni https://t.co/IMTwhGc4Sz

— Dr.SHIVA Ayyadurai, MIT PhD. Inventor of Email (@va_shiva) April 27, 2018
This unruly war of words by this reputable desi, who is known as the inventor of electronic mail, is a shame to the US as well India. He is setting a bad example for all the Indians and Indian-Americans with such degenerate acts and is damaging his reputation as well as that of the nation.
It is time Mr. Ayyadurai mends his ways before the public decides to sue him during the elections for his immature acts and gibberish tweets that he circulates each day!